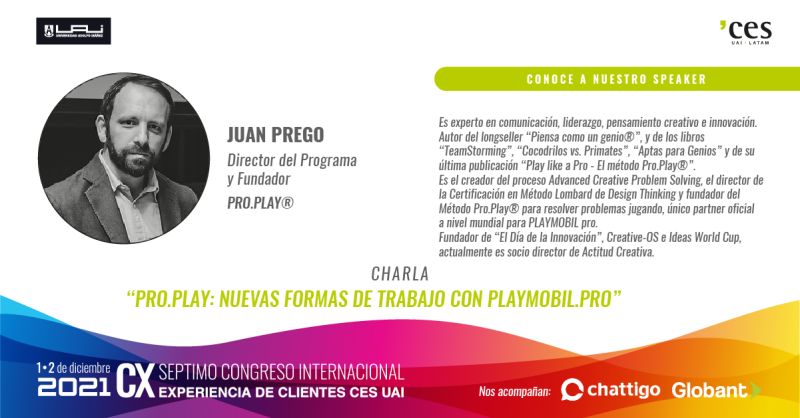 A couple of days ago I had the pleasure of participating as a speaker at the Seventh International Congress of CX (Consumer Experience), organized by CES UAI (Center for Experiences and Services of the Business School of the Universidad Adolfo Ibáñez).
An event sponsored by Globant and Chattigo, which was attended by more than 1300 people from around the world, and which has had 17 international experts, such as Paula Sáa (Human Resources Manager at Rocketbot), Ernesto Doudchitzky (Co-founder and CEO CHATTIGO), among others).
In my presentation, which revolved around the question "Is there anything more human than playing?", I shared the new ways of working with the Pro.Play® methodology for PLAYMOBIL pro.
Pro.Play® allows to model situations and go beyond stories to make interactive interventions and solve complex problems by playing.
Through a practical exercise, participants experienced a quick application of the Pro.Play® methodology to generate ideas.
Finally, attendees had the chance to download for free the first pages of my latest book on this methodology: Play like a Pro – www.proplaymethod.com/libro
Here is the video of my intervention, where almost 400 people were connected simultaneously interacting and exploring the power of play to solve complex problems.